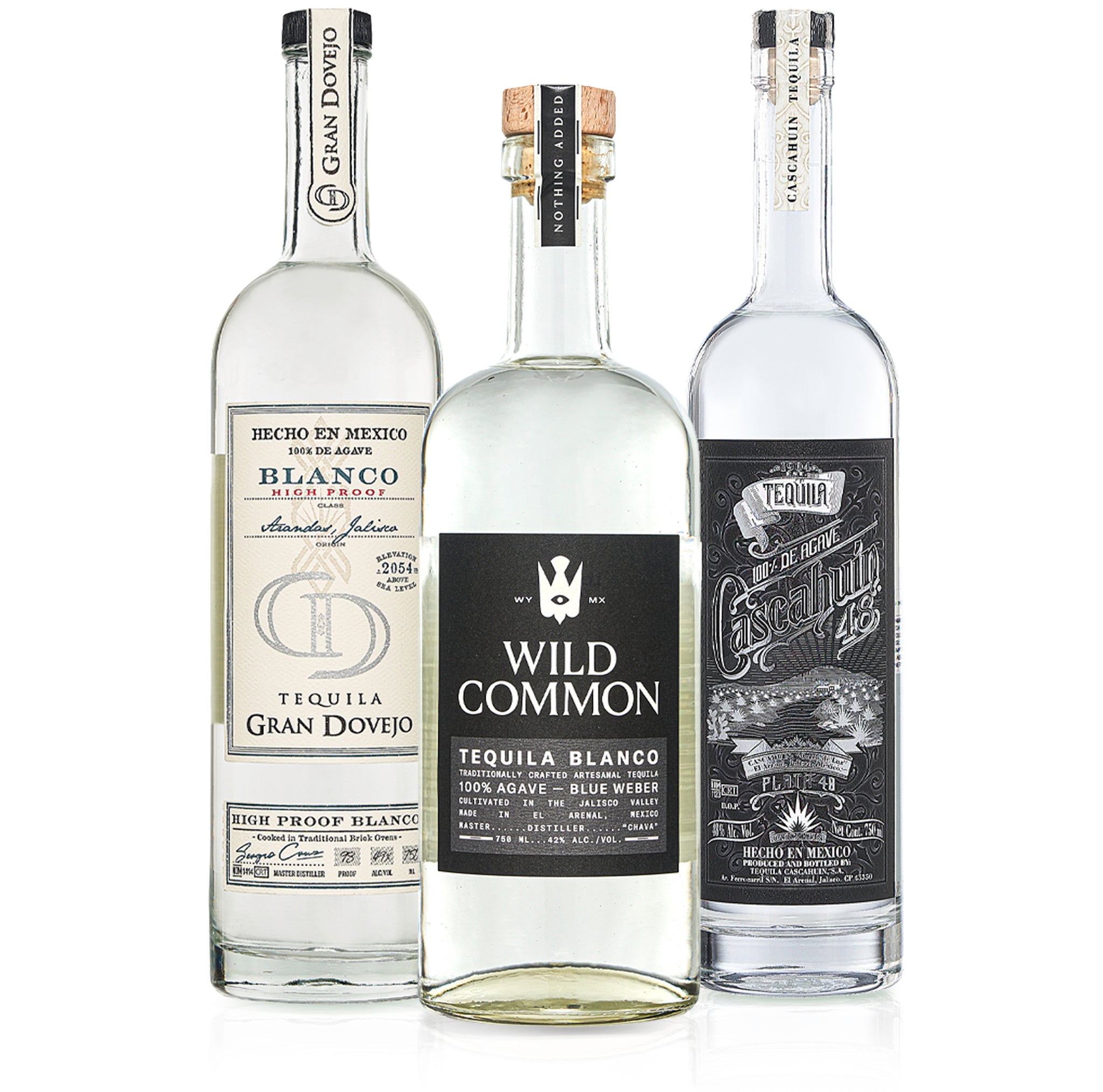 High Proof Flight
Why we love High Proof Flight
Regulations regarding the requirements for bottled ABV % have had unintentional consequences on the flavor spectrum of the Tequilas we see on the shelves. In the US, minimum requirement for ABV is 40% and thus, most distillers dilute their Tequilas down to that mark after having the liquid come from the still at anywhere between 50-60% ABV. In the last few years, Master Tequileros have started to stretch their legs outside of those requirements and release Tequilas with higher proofs, some even bottling exactly what comes from the still.

While I haven't included any still strength varietals in this flight, I've assembled a group of high proof blanco expressions that will show you the range of flavors that become possible when the dilution allows for a little more of those alcohol components to shine. Gran Dovejo High Proof Blanco comes in at 49%, Wild Common Blanco at 42%, and Cascahuin Plata at 48% - all presenting different aspects of what a higher ABV can do. From allowing more minerality and herbaceous qualities to shine in the highland expression(Gran Dovejo) to a richer mouthfeel and higher brine, almost like an oyster freshly harvested, in the Cascahuin Plata, or apricot sweetness in Wild Common, you'll enjoy the adventure in this flight of this I am sure.

Salud!

- Carolyn Kissick, Director of Education and Experience 
Tequila Included in Flight (all 750mL bottles):
1 Gran Dovejo Blanco High Proof 
1 Wild Common Blanco 
1 Cascahuin Plata 48 
Tasting Notes
Gran Dovejo Blanco High Proof
Aroma: Bold aromas of cooked agave, wet clay, caramelized citrus, lime zest and herbs
Palate: Zesty approach presenting peppercorns, citrus rind, thyme, bolstered by deeply caramelized agave and creamy butter which can also be applied to the fullness of the mouthfeel. This is a well balanced presentation of spice, and lingering sweetness with the mild heat expected in a high-proof blanco.
Finish: Flavor is presented up front with this Tequila, developing in the middle of the palate and resulting in a medium finish.

G4 Blanco High Proof 108
Aroma: wet stone, cooked agave, starfruit, sweet grapefruit, tarragon
Palate: cooked agave is present and quickly punctuated by the high alcohol content with notes of cracked black pepper, cinnamon, and dried herbs - oregano, thyme, basil
Finish: quick finish, slightly dry

Cascahuin Plata 48
Aroma: mint, green agave, cilantro, raw walnuts
Palate: full mouth salinity and agave sweetness on the approach, followed by notes of freshly baked bread, thyme, peppercorns and underripe banana amargo
Finish: high proof makes this finish dry, and weighted at the same time. A lightly sweet honeyed mouthfeel is completed by a lip smacking herbal bouquet.