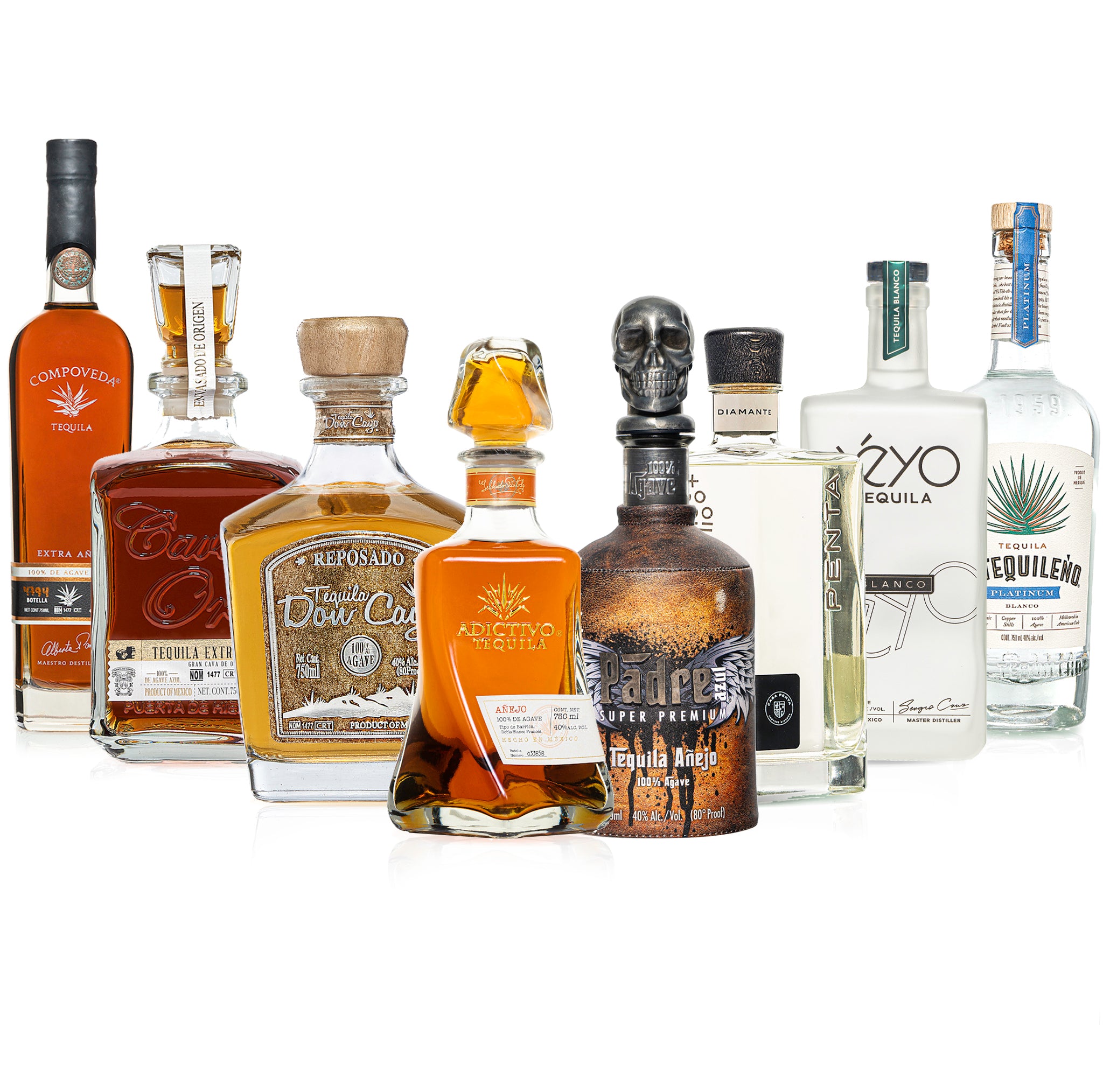 Premium Flight
Why we love Premium Flight
Tequilas Included in Flight (all 750mL bottles):

1 Yeyo Blanco
1 El Tequileño Platino
1 Penta Reposado
1 Don Cayo Reposado
1 Adictivo Añejo
1 Padre Azul Añejo
1 Cava de Oro Extra Añejo
1 Compoveda Extra Añejo
 80 Proof / 40% ABV
Tasting Notes
Yeyo Blanco* (Temporarily Replaced with Adictivo Plata)
Aroma: citrus, green agave, slight salinity
Palate: peppery approach followed by citrus flowers and cooked agave, clean mouthfeel
Finish: medium bodied and herbaceous

El Tequileño Platino
Aroma: green agave, orange zest, fresh pastries, slight peppery heat
Palate: spearmint, agave, banana, cinnamon, citrus peel
Finish: herbal, lasting, develops sweetness over time

Penta Reposado
Aroma: rich vanilla, caramel, cooked agave
Palate: roasted agave, citrus, vanilla, earth
Finish: very rich and round, long lasting smooth mouthfeel

Don Cayo Reposado
Aroma: caramel, vanilla, cooked agave, cinnamon butter
Palate: caramelized agave, vanilla, oak, maple, sweet cinnamon
Finish: lasting, easy and sweet

Adictivo Añejo
Aroma: honey, caramel, vanilla, sweet spice
Palate: honey, caramel, agave, oak, dried fruit and sweet agave
Finish: long finish, with rolling sweetness

Padre Azul Añejo
Aroma: vanilla, cooked agave, bourbon, oak
Palate: caramel, oak, cooked agave, vanilla, almond, cocoa
Finish: rich and sweet with notes of bourbon and dry oak to finish

Cava de Oro Extra Añejo
Aroma: cinnamon, caramel, vanilla, nutmeg
Palate: very smooth with a delicious range of toasted cinnamon, vanilla, and maple syrup
Finish: lingering and pleasant

Compoveda Extra Añejo
Aroma: cooked agave, oak, caramel, honey and vanilla
Palate: cooked agave, honey and butterscotch with strong oak notes
Finish: long for a reposado, with mild alcohol and lingering sweetness
About the Brand
Looking to stock your bar cart and not sure where to start? Let us do the decision making for you with this flight of 8 premium Tequilas, 2 from each expression category. These are easy sippers, great with cocktails, and is sure to bolster your already growing agave spirits collection.